Nele summarizes her experience of hiking in the highlands of Iceland – read more about this fascinating tour!
"After falling for Iceland in 2017 and spending two summers working in North Iceland for a horseback riding tour company, I wanted to embark on a multi-day trek for the first time in 2019. Laugavegur, Iceland's most famous hiking trail, beckons with spectacular descriptions of volcanic landscapes and vibrant colors of the Rhyolite Mountains in Iceland's southern highlands.
When I was looking for information on the internet, I decided to extend the hike: over the pass Fimmvör∂uháls, south of Laugavegur. So I could start my hike at the tourist magnet Skógafoss (engl. "forest waterfall") and reach the colorful mountains of Landmannalaugar after six days. Highly motivated, I studied hiking maps and read online blogs. My packing list for the trekking backpack became longer and longer on the days before my departure.
The Laugavegur is considered a moderately difficult, rather beginner-friendly hiking trail. However, when I checked the elevation profile of the Fimmvör∂uhál, I realized that the first stage requires around 1000 meters of elevation… Almost all of my hiking gear carries "ultralight" labels, but all of them together probably wouldn't even pass for "light" anymore.
What gave me some additional concern were numerous warnings about river fords, a lack of cell phone signal on parts of the route, and bad weather capers. What of this is going to be a challenge, I did not suspect then yet.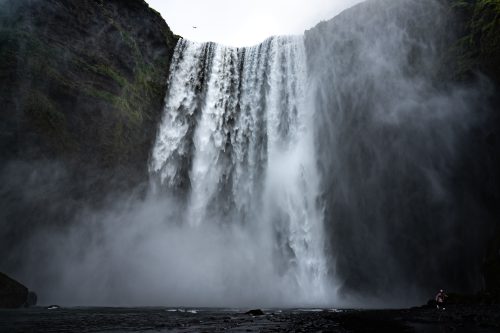 Arrived in Iceland:
I now sit in front of my tent at the Skógafoss campsite and eat my evening meal, which will be the last fresh meal for six days. In my backpack, home-dried fruits, oatmeal for porridge and bagged soups are waiting for me.
Around me is a bustle of other expectant hikers. Tents are pitched and the perfect photos of the thundering waterfall are waylaid.
I managed to reduce my backpack to about 20 kilos. I would love to start hiking right away. But one night I will stay at the south coast, before the next morning it will go northward and especially: uphill.
Start of the hike:
The very first day makes me feel like a hobbit in the middle of a spectacular movie set: along the river Skóga I marvel at numerous waterfalls and impressive, steep banks. Fortunately, the stages of the Fimmvör∂uhál and Laugavegur are mostly only around 15 kilometers long. Because, with all my stops to photograph the scenery around me, I would never arrive at my destination within a day.
What started as an exhilarating hike, ended as a sluggish walk through a dense wall of fog, up the steep climb to Fimmvör∂uhálsskáli (skáli, meaning hut). Between the glaciers Eyjafjallajökull, which made headlines with its eruption in 2010, and Mýrdalsjökull, there is a gigantic view at 1100 meters above sea level. I can see all the way to the sea.
Around me, volcanic rock and snowfields, which one must cross on the last meters. Already during the ascent, sight of the solid volcanic rock and the whistling wind gusts I think about how I probably get my tent set up. On top of the plateau of the hut it becomes clear: not at all. To even stand straight, is almost impossible in the afternoon up there in the cuttingly cold wind.
Fortunately, there is still a free place in the Fimmvör∂uhálsskáli in the dormitory with four bunk beds, where two people sleep on one mattress each. The hut's caretaker collects snow, which is melted into drinking water over a crackling hearth fire in the rustic hut. Glad for the cozy, warm hut and after a few exciting conversations, I happily lie down on my half of the bed.
If you plan for your hike to spend the night in the huts, my first tip is: a pair of earplugs.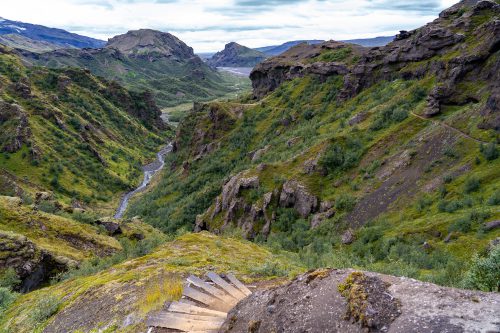 On hike:
After enjoying the all-around panorama in the morning, I set out on the stage to Húsadalur in Þórsmörk. During the route, there is offered everything in extremes you can imagine: the volcanic craters Magni and Modri, which were formed before the main eruption of Eyjafjallajökull, narrow paths along the rock ridges, steep descents and a view that I can hardly describe properly with words only. Even with the camera, I sometimes give up trying to capture the dimensions of the glaciers and the valleys.
On my way to Þórsmörk, I am amazed at how green the jagged rock formations are. Along the Krossa in the valley one even meets trees. This actually is an unusual sight and reminds me of a joke an Icelander told me the first time I hitchhiked: "What do you do when you get lost in an Icelandic forest? Stand up."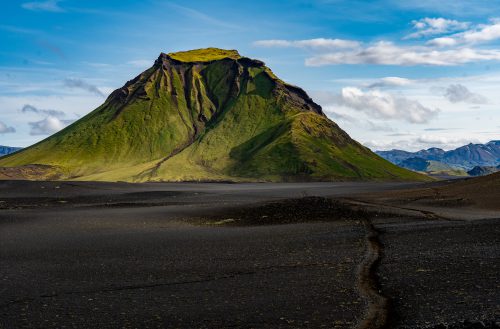 During the whole hike, one gets the feeling of wandering from one poster landscape to another.
I see the black ash desert with the moss-covered Hatfell (fell, Engl. mountain) enthroned in it, snow-covered passes as well as the colorful rhyolite mountains, which pile up in front of you after a steep climb behind Álftavatn with hissing steam plumes of the solfataras.
Before I could enjoy the view of Álftavatn after what felt like a never-ending mountain, one of the many river fords was at hand. It was the one through the glacier stream Grashagakvisl. Not recklessly  but courageously I set my steps. I was looking for a firm footing with a tentative foot in the ice-cold current. The front trekking pole always gave me support so far, while I waded through the knee-high, fast water. This time, however, it did not. In one sweep, the extendable pole pushed together and I got a second face wash that morning. Fortunately, I had fairly firm footing on my feet, so I was able to lift my head out of the roiling water again. Still, this gave me enough adrenaline to last me all day.
Note: Sturdy trekking poles are highly recommended and so are the safety tips on fords (all tips at a glance).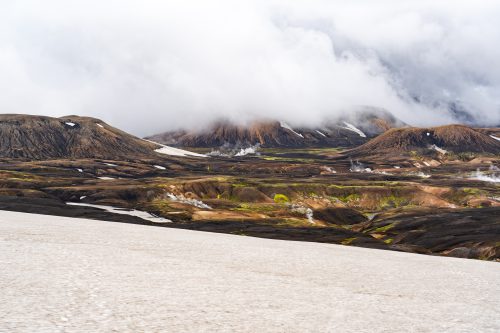 Arriving at Hraftinnusker at 1048 meters, you can see the hut with its campsite lying on a plain between the mountains patterned white and colorful by the snow. As I got closer, I saw the tents set up in stone castles, which seemed like another planet with the barren surroundings and colors.
Until this fifth evening, there was nothing to be felt of the otherwise touristy overcrowded Laugavegur. However, one is never completely alone and even if I was mostly only the way between six o'clock in the morning and 14 o'clock at noon, one comes to meet sporadic hikers. I could even see horseback riding tours with their free-running herd – in these moments, the small desire arises to move on four instead of only two legs on the highland paths.
My joy about the rhythm that I found from the third day on, in which my feet carried me over every slope and through rivers, were only clouded by a realization in the morning. My tent floor and sleeping pad could not withstand the sharp volcanic rocks on the ground. I already wondered during night why a pfff could be heard, but fell asleep again due to my tiredness. I could immediately explain the origin of the sound when I woke up the next morning… A patch kit for the sleeping pad was missing from my packing list and taught me humility for the next few nights – it made me think of acupressure mats and convinced me that I was now enjoying this treatment for free.
There are additional trails at each of the campsites. They lead to more remote places worth seeing, like the panoramic peak Söðull (engl. saddle). So if you have pitched your tent, you can go exploring afterwards without luggage off the Laugavegur. I was particularly impressed by a monument erected at Sö∂ull to a deceased hiker who unfortunately froze to death in a blizzard. Even though the Laugavegur is well marked, much visited and the paths are always recognizable, this is a reminder of the forces of nature that one is at the mercy of at any time in Iceland, especially in the highlands.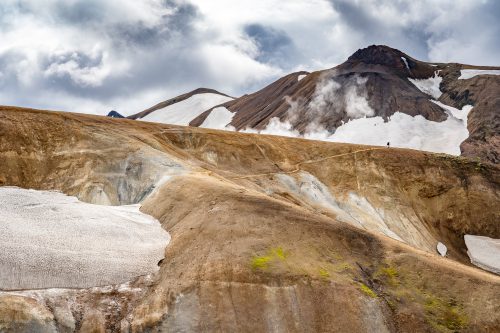 The last stage envelops one with the putrid sulfur smell of steaming springs and mystically billowing solfataras. Mud pots, rhyolite rocks and lava fields line up and make me stop again and again. Even five minutes of hiking are enough and suddenly there is something new to discover. The light changes the scenery again and again and with every new angle, the landscape outbids itself in its beauty and with its unbelievable colors. The last part of the Laugavegur leads directly through the lava field Laugahraun, which makes you believe in trolls and elves with its bizarre shapes in the fog. It ends in Landmannalaugar.
There is an unusual hustle and bustle, because Landmannalaugar is the starting point for bus tours and can also be reached by 4×4 vehicles, so you will meet many day tourists here. If you still have time, there are great opportunities for day trips to the view mountain Bláhnukur for example.
Landmannalaugar is therefore also interesting for those who do not have time to walk the whole Laugavegur, or prefer shorter distances on foot.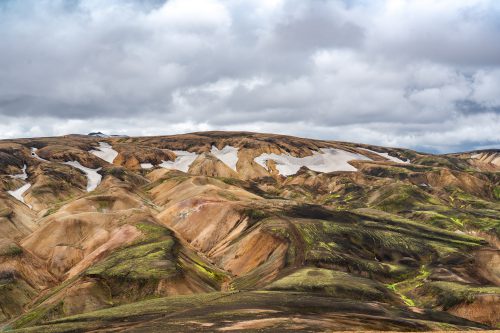 My conclusion:
You will not find anything comparable in Europe. A hiking route with such a scenic variety is unique for me so far. The Laugavegur will definitely be an unforgettable experience. For those who find Laugavegur too busy, the extension via Fimmvör∂uháls is highly recommended for even more secluded trails and wilderness feeling."
If you're curious or already planning a (hiking) trip to the southern highlands, feel free to check out the tips I've summarized in this article."
Thank you, dear Nele, for this great report & your insights! We are looking forward to your next article!
Images & Text: Nele Mahnke
Nele's Instagram