Nele has already reported about her multi-day trekking trip in the highlands of Iceland in a previous article. Now, she summarizes the important tips and tricks for this hike:
When is it best to start the trip?
Mid-June to mid-August. It is important that the highland roads F208 and F225 to Landmannalaugar are free. You can check the current status and if the routes are open on the website of the Icelandic Road Authority (www.road.is).
The cabins along Laugavegur open according to the roads and are occupied until ~ the end of August.
It doesn't get dark during that time either, soI recommend to take the opportunity and leave early or start late so you can avoid the guided groups.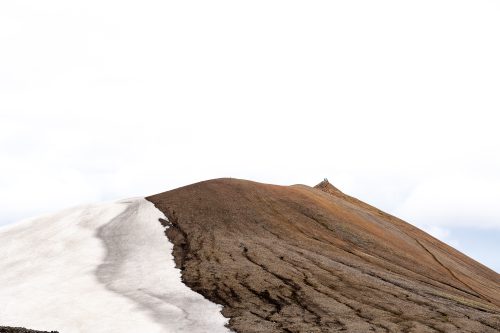 How to get there?
To Landmannalaugar and Þórsmörk there are Highland buses operated by Trex (https://trex.is) and Reykjavik Excursions (https://www.re.is).
To or from Skogar, in case of an extension with hiking Fimmvör∂uhál, there is also the public line 51 (straeto.is)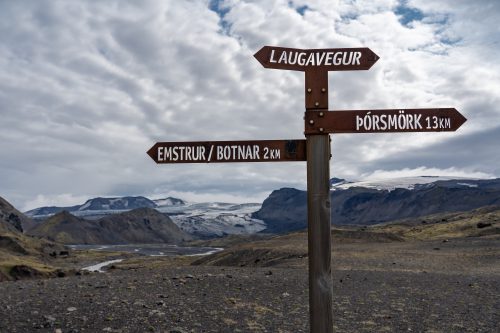 Watt are possible difficulties?
Laugavegur is considered a hike with medium level of difficulty, even with some easy parts that are beginner friendly. In good weather, the well-marked and recognizable trails are effortless to follow. Those who can walk several days at a time with luggage and ideally have already been in the mountains at an altitude of at least 1000 meters, will have no problem with the route.
A risk factor that should not be underestimated is the weather. There can be violent weather changes, especially at higher altitudes with fog and snow storms.
Basically, the Laugavegur is uncomplicated, but the following things should be kept in mind:
Check current weather conditions. You can ask the respective hut wardens and get information on the website of the Icelandic weather service (vedur.is).
Pass snow bridges and snowfields only on well-trodden paths and along the markings (it is not possible to see from above how far they have been thawed from below), otherwise there is danger of collapse.
Fording with sandals/water shoes and trekking poles is recommended and a guide to fording should be looked at closely (www.isafold.de).
At safetravel.is, there is current information about weather warnings and the possibility to deposit your travel plans for free (logging off is important, otherwise a rescue team will be sent!)
At best, have a GPS device with you, so you don't lose your bearings in bad weather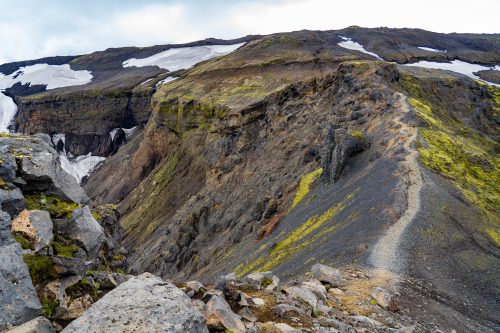 Which equipment to bring along?
Backpack, preferably with hip belt
Hiking boots, ideally ankle high (stabilization for hiking on lava rock)
Trekking poles useful, especially for river fords
Storm-proof tent (and pegs that will hold in rocky ground)
Sleeping bag (mine had a comfort range down to minus 10 degrees, so I didn't freeze even in the higher elevations and cold nights)
Camping mat (ideally an inflatable, lightweight version)
Buff and cap (also for cold nights for sleeping)
Sandals/Crocs or similar for the river fords
Sunglasses with UV protection and sunscreen
Rain pants
Multi-layer- principle:
Bottom layer: breathable long-sleeve made of (merino-)wool (no cotton!)
Middle layer: Fleece sweater in combination with down vest
Outer layer: Hardshell jacket with Goretex membrane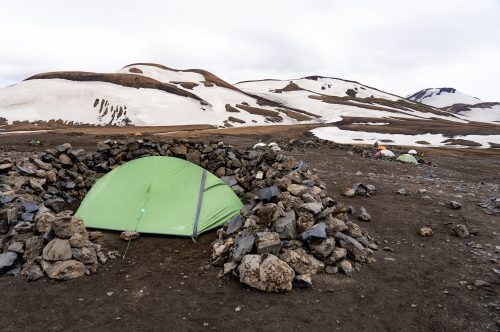 Food & Drinks?
All provisions must be brought by yourself. So you also need a gas stove with gas cartridge, a pot/dishes and water bottle.
At the huts you can usually buy small snacks, but they can be sold out.
Except for Fimmvör∂uháls, you can get fresh water from the rivers all along Laugavegur.
In Landmannalaugar, there is a small kiosk in an old bus that offers fresh coffee, rolls and pastries.
Accommodation?
The cabins on Laugavegur cost around 56€/night and are booked up quickly, so it makes sense to reserve a place to sleep on the website nat.is (for 2023, the Laugavegur cabins are already full, which gives you an idea of the popularity of the trail).
With a tent you are much more flexible and cheaper with about 12€/night. Showers are not available at all huts, mostly only a natural toilet. At huts with sanitary facilities, you pay an amount of about 3,50€ for the use.
At Ferðafélag Íslands, the Iceland Touring Association (FÍ), there is an overview map of all highland huts (www.fi.is).
So all that's left to say is: Happy hiking! 🙂
Thanks a lot, dear Nele, for your helpful tips and explanations!
Images & Text: Nele Mahnke
Nele's Instagram