Get an impression and an idea about Hólar University College (Hólaskóla – Háskólann á Hólum):
UNDRA: Hi Vibeke, thank you for your time to give insights into the studies at Hólar University College! We were already able to learn more about you in the personal interview and would now like to ask some questions about Hólar – what, Vibeke, is "Hólar" and where in Iceland is it located?
Vibeke: In the valley Hjaltadalur in North-Iceland, you find Hólar University College. At this exact place there has been people living and being educated since 1206. The university offers three programs, Equine Science, riding and riding teaching along with aquaculture and tourism studies. The Equine Science department was founded in 1995, but equine studies were offered in the agriculture school since the 1960s. In 2010 the program became more unique and specialized to educate specialists in Icelandic Horsemanship with a bachelor's degree. The program today offers Diploma in horse training (120 ECTS), BSc in riding and riding instructions (180 ECTS), BSc in Equine Science (180 ECTS as a joint agree with the Agricultural University of Iceland) and a MSc in Equine Science (120 ECTS).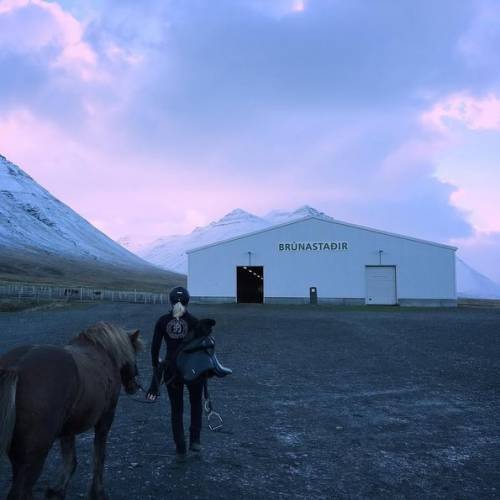 UNDRA: How and when did you first get in touch with Hólar?
Vibeke: As it was quite spontaneous decision to move to Iceland, everything I knew was limited. I had heard about Holar and googled to read about it. I almost couldn't believe it when I realized you could get a bachelor degree in riding! My goal was straight away to move to Iceland, learn to ride Icelandic horses and get into Holar. Little did I know it was at such a high level! I must admit and say I knew way too little about the school when I started but there was not much to read about it at that time. After half a year in Iceland, I joined my friend to a weekend course with Julio Borba in the north and we stayed over with Klara Sveinbjörnsdóttir/Stormhestar and she showed us Holar and even the stable area. I thought it looked like she was living the dream! The second time I was there was for the entry exam!
UNDRA: What exactly do you learn when studying riding & riding instructions? What is the focus on every year?
Vibeke: I would say the programm is 50/50 theory and practical courses. In the first year you learn the basics of everything you need to know about horses and riding. The courses in the first year is
Riding 1 and 2,
Biology and Physiology of the horse,
Introduction to Methodology,
Rider's fitness 1 and 2,
Training the horse 1 and 2,
Pedagogy 1 and 2,
Equine Nutrition,
Pre-training of yearlings,
Equine Health,
Horse Management and
Equine Behaviour.
The second year is more focused on young horses, contains a practicum and more interesting theory. Courses that are taught are
Horse Riding 3 and 4,
Training 1 and 2,
Sports Psychology,
Young Horse training 1 and 2,
Horse Business Management,
Equine Kinesiology,
Pedagogy 3 and
practicum at another stable.
The third and final year focuses more on competition horses and really cool theory classes. The classes are called
Pace Training 1 and 2,
Riding Instruction 4 and 5,
Training for Competition 1 and 2,
Training 4 and 5,
Research Methods – Statistics,
Developmental Psychology,
Horse Breeding and genetics,
Breeding show horses – training and judging,
BSc thesis
and you have the choice to choose the final course yourself. The choices are
1) Individual project
2) Shoeing or
3) Competition Judging.
UNDRA: What is so special about Hólar so that even foreigners move to Iceland to study there?
Vibeke: Correct me if I am wrong but I don't think there are this exact education anywhere else in the world? I know of similar studies in Sweden (Hippolog at Wången) and Germany, but neither of them is a bachelor in Riding and Riding Instructions even though the topics are similar. For me personally I think it is the environment, other students and the teachers that makes it so special. To be able to live together with other people working every day on becoming a better version of themselves as a horse trainer and teacher is really unique. The teacher at Holar is also incredible talented and it is such a privilege to get lessons from them on a daily basis!
UNDRA: Who taught you at Hólar when you were a student there?
Vibeke: So many amazing teacher!! They really have made a huge impact on me, all of them. Let's start with the riding teachers. I was lucky to have
Mette Mannseth,
Þorsteinn Björnsson,
Anton Páll Nielsson,
Inga Maria Jóninudóttir,
Þórarinn Eymundsson,
Þórir ísólfsson and
Sigurður Heiðar Birgisson.
For the theory classes we have extremly good teachers such as
Gúðrún Stéfansdóttir,
Víkingur Gunnarsson and
Elisabeth Jansen.
UNDRA: For the ones now being interested in studying at Hólar – how is the application process to get in and how many students study at Hólar each year?
Vibeke: Every year you can apply on their website for the studies, but they are not open as is. When you have applied you will receive information about the entry test (usually held in spring/summer). I don't know the exact number but I have heard there is about 60-80 people applying and around 20 people get accepted every year.
Thank you, Vibeke, for your time & insights! We look forward to learning more from you!