Equisthethik* grew out of our passion for horses, learning and teaching. It is a multi-layered riding and teaching concept to inspire horse-human pairs, to bring them together to form a real team and to focus on individual possibilities and goals.
We welcome everyone who is genuinely interested in learning more. We love to inspire people to better understand horses through new perspectives, as well as to change all communication between humans and horses through newly created experiences and possibilities.
It doesn't matter whether you're on the ground or in the saddle – clear and understandable action requires a feeling for the situation and knowledge of connections. For this, we have brought together, revised and further developed various teaching and thinking approaches, not only from horse riding theory.
In this way we help you to understand the basic principles of movement between you and your horse and to use them in a targeted manner with dynamic body control. We help your horse to be satisfied, relaxed and willing to perform, because it is not through pure learning, but through true experience, that it is enabled to contribute positively to working with people.
Whether you "just" want to know more or want to instruct others, whether you are looking for a good place for honest training of your horse or your personal development:
We offer everything in one place and from a single source.
But in order to be able to report more precisely about equisthethik*, we have to go back a little.
Origin:
It all started in the early 80s and 90s with the awakening of the passion for Icelandic horses and, through our full-time work with horses since 2002, led to the founding of the Icelandic horse farm Auensee in 2005. (www.islandpferde-auensee.de; Instagram Islandpferdehof Auensee).
We, Birgitta Schmid and Stefanie Zapf, started with 45 horses and quickly, the number of our horses rose to 90, then 130. Right from the start, our passion was the high-quality and in-depth training of horses and riders, and the rapidly growing number of pension horses confirmed us in our actions.
That's how the idea was grown to collect all our existing knowledge (and of course to constantly supplement it with new knowledge) and to set up our own training concept. The journey began, and out of our passion for horses, the joy of learning and teaching, as well as the constant search for improvement of horse and rider, equisthethik* emerged in 2017.
We for you:
We would like to reach all horse enthusiasts who are interested in improving communication with the horse and more harmonious influence on the horse. Everyone who enjoys keeping a horse healthy is warmly invited. Everyone is picked up where they are. We discuss realistic goals with you and accompany you on your individual journey. It doesn't matter what level of training, what capacity or breed, whether you have your own horse or a training horse: we convey an honest understanding of the horse's psyche and show the basic principles of anatomy and movement.
For a good 20 years we have been working with approaches from Far Eastern martial arts and all aspects of the Franklin method: including with the help of Franklin balls and bands. Not only our customers, but also ourselves, we are constantly developing here.
We are also about strengthening the emotional-spiritual connection between rider and horse . The inner attitude of people plays a central role in their actions and the implementation of new knowledge – and is therefore our focus.
Then as now, we base our actions on classic riding theory as well as on philosophical and psychological approaches. However, the lessons use their own language and images, which means that we as "interpreters" can bridge the gap between the textbook and practice. We are regularly rewarded for this by new customers with statements such as "Now I've finally understood it" – "Now I've felt it, too".
Whether in theory or practice without, with or on the horse – we are also mentally on the move to make communication with you and your horse suitable for you. Then….
Riding in motion:
For us, this not only means that a rider has to be in motion in order not to disturb the horse, and that the horse has to be relaxed in order to move well and healthily. It means,  that the riding instructor must also always be mentally active in order to adapt flexibly and creatively to his counterpart. And the concept itself remains in motion and is constantly evolving.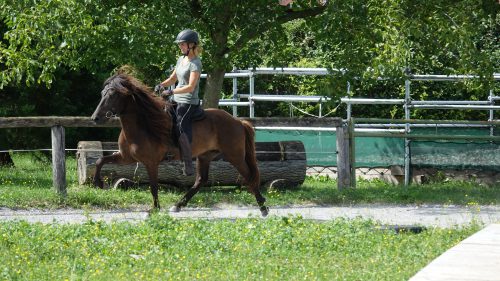 For (future) riding instructors:
For riding instructors, or those who want to become one, we offer our training as equisthethics trainers or equisthethics experts. Of course, anyone who is interested and would like to continue their education can take part.
Further development opportunities:
We also offer coaching and training courses for private individuals, executives or teams that are linked to horse experiences. For this, we work in cooperation with Petra Tramp – leadership excellence. Through the Islandpferdehof Auensee GbR, we are in the unique position of using many different horse personalities as assistant trainers as well as the entire infrastructure of the company.
For horses:
We have gained extensive experience in horse training for over 20/30 years, and the focus is always on the mental and physical well-being of the rider and horse. We are convinced that no matter what skill level you or your horse are at, with the appropriate goals and the right support, nothing stands in the way of a relaxed and well-functioning horse-human relationship.
From training young horses to training riding horses or dealing with "problem horses": We take the time to be able to respond to the horses individually, to know the goals of the horse owners and to clearly discuss the realistic possibilities and to accompany you and your horse on and in creative ways.
The investment of the right physical and mental effort is a key function here and often means real work for both man and horse. We do not see just training the horse as a sustainable way. People must also make their contribution within the scope of their possibilities. We owe that to the horses.
Of course, we also see success in sports/competitions as a goal worth striving for if it is the result of meaningful, sustainable training.
If you are interested: www.equisthethik.de and in the near future also on Instagram!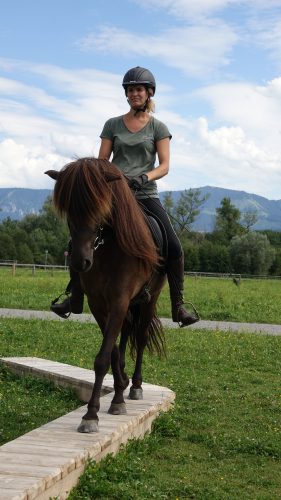 *The term "equisthethics" is a creative neologism and is made up of a variety of aspects that are intended to express our philosophy. We are proud to be able to use this word to express everything we stand for in the work with horses.
Equisthetics – stands for:
On the one hand there is the Latin word "Equus" for "horse" which, in the declension with "Equi", represents its genitive – "of the horse". But what is "the horse" about for us? We care about with the special beauty of the horse; about the inner and outer beauty, which has fascinated mankind for thousands of years, and which we humans should/must respect and protect in all our dealings with horses. It's about the aesthetics of the horse. Just looking at it touches us deeply.
If we now want to deal with such a wonderful animal or even want to ride it, we owe it to him to get our body and our movements under control as much as possible in order to disturb the horse as little as possible and to enhance its beauty not to deprive.
For this purpose, we rely heavily on the training of kinaesthetics, i.e. the kinaesthetic sense, in our approach. Your own sense of movement is trained in depth and this also improves movement in the seat and influence of the rider. We see this as an important aspect in order to let rider and horse merge into an aesthetic overall picture.
Our entire endeavor places the promotion of the horse's personality and health first. Our actions are based on ethical core values ​​and are practiced towards people and horses. This is how things are created and maintained with feeling and knowledge, understanding, joy and pride.
Images & Text: Equisthethik
*Advertisement*