Silke Köhler gives insights into the concept and events around the Icelandic horse stud Bockholts-Hoff and the new location in Iceland – in Varmahlid near Sauðárkrókur, Iceland.
UNDRA: Hello Silke! Thank you for your time and insights! Would you like to introduce the Bockholts-Hoff in more detail?
Silke: Hi UNDRA! The Icelandic horse stud Bockholts-Hoff is located in Schneverdingen in the Lüneburg Heath. More than 200 Icelandic horses live here. Among them, we have around 60 pension horses and our own breeding horses as well as riding horses. Our many sales horses, which are here for commission and which we bring together with their future owners, also make up a large proportion.
In addition to the horses, you will also find dogs at our Icelandic horse farm, which I rescue from animal stations and connect to new owners. You can also see pigs and oxen, which have been helping to protect our young horses from wolves for 4 years now.
We have upgraded a lot in recent years and our facility and range of services at Bockholts-Hoff include:
Riding lessons & training
Commission
Horses for sale
Stallions
Breeding mares
Horse pension
Young horse pastures
Separate herds of horses

Oval track

Pace track
Riding hall
Round pen
Start boxes
Brine chamber
Apartments
Riding courses
Bemer
Under construction:
Horse walker
More paddock boxes.
Due to the time with Covid-19 and the associated lockdowns, we have changed our concept – and have now increasingly focused on the sale of Icelandic horses, which we sell directly form Iceland or import to Germany and find a new owner here on the continent.
UNDRA: Would you like to talk more about your location in Iceland?
Silke: With our new location in the north of Iceland, in Varmahlid near Sauðárkrókur in Skagaförður, we can bridge the gap between our activities here on the continent and those on the island.
On Iceland we have an oval track, a riding area in 20&30m with pace track in the stable area, 20 boxes, saddle area, shoeing area, washing area, kitchen and washrooms.
We, that is my partner in Iceland, Jóhanna Heiða Friðriksdóttir, my husband Roman Kinast and I, can offer at this location:
International sales of Icelandic horses directly from Iceland and from Bockholts-Hoff in Germany
Foals, young horses, riding horses, breeding mares, stallions, top-class sport horses, school horses, touring horses and leisure horses
Organization of export and transport to destination
The possibility of booking a four-week care-package at Bockholts-Hoff after export
Fair and competent advice prior to purchase
Four-week right of return in Germany for all horses
Transparent & meaningful videos in Iceland and in Germany
Sales tours to Iceland with housing opportunities
Stable visits & horse shows
Riding lessons, training & pension
Tested by us for you: Icelandic horses with the TheHorseSeller-Brav seal for beginners and anxious riders
This is how we can shorten the route from Iceland to Europe! #icelandichorsedreams coming true!
So we offer an all-round service: Interested riders can either fly to Iceland with us, look for horses on site and try them out. Or you can get to know the horses here in Germany. For the horses that are still on the island, we provide a good impression of the horses through meaningful videos and pictures as well as descriptions or we offer appointments here at Bockholts-Hoff after importing the horses.
MEET & LOVE – YOURHORSE – PACKAGE
Horse and rider become one with us – with our packages "MEET & LOVE – YOURHORSE"
with individual training and right of return of up to 3 months depending on the booking.
Service description of the packages
The packages include the following services:
horse training
Individual lessons
Individually tailored riding weekend included
Description
The packages always have a term of four weeks, are assigned personally and can be extended according to the table. Duration of the right of return and refund depend on the package.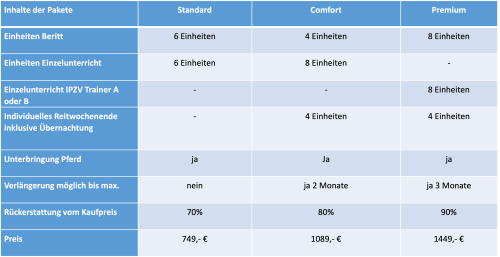 UNDRA: Thank you very much for the insights! How do you manage your wide range of services and horse care on the employee side? Is it difficult to find good staff
Silke: We are well taken care of when it comes to looking after and caring for the horses and the work in and around the stables.
However, there is one area we are missing the most: the riders! In principle, we could hire more riders to present the horses for the sales videos, for example. We are also currently looking for a sales manager who will take on the tasks related to sales and accompany the appointments and who also knows the current sales horses well and trains them.
UNDRA: Thank you for introducing the world around the Bockholts-Hoff! Congratulations again for establishing a second location in Iceland. We look forward to hearing again from you soon!
Website: https://www.bockholts-hoff.de
Instagram: https://www.instagram.com/thehorseseller/