There is no road connection, no power lines, no livestock and no human being has lived there for about 70 years.
Hornstrandir is the northernmost peninsula of the Westfjords and thus of all Iceland. It is one of the last wildernesses in Europe and an untouched piece of land with wild nature that is difficult to access.
The landscape of mountain plateaus, deep fjords and steep cliffs can only be reached by boat or on foot. The only connection between Hornstrandir's most spectacular views and areas are hiking trails. But that is exactly what is so appealing, here you still have the opportunity to experience the beauty and absolute tranquility of nature. If you are on the lookout for a white-tailed eagle, whales, seals and the Arctic fox, you are usually lucky here.
One of the most visited places is Hornvík and the bird cliffs around the bay. Some parts of the cliff are up to 500 meters high and birds lay eggs all over them, which is a fascinating sight.
Until the 1950s, people lived off the rich fish stock and bird cliffs in the fjords. The area was declared a nature reserve in 1975 and is the only place in Iceland where the Arctic fox is protected. Social changes led to the abandonment of all farms during World War II and in the post-war period. Most of the land is still privately owned, and the landowners are entitled to its traditional uses, i.e. eider farming, fishing in rivers and lakes, bird hunting and egg collecting. Within the nature reserve there are a few dozen houses, both old renovated farms and new summer cottages of the locals.
The season for visiting is short (ferries run from mid-June to mid-August) and the terrain quite challenging. Nevertheless, there are a wide variety of ways to experience this special place. While many book a day trip through a provider or a guided multi-day hike, some set out on their own for several days. If you plan your visit on your own, be sure to book the round trip ferry in advance. And at best, plan a reserve day for the unpredictable weather in the far north or to enjoy the natural beauty around you even more relaxed. Also a GPS should not be missing in the hiking luggage and as everywhere in Iceland equipment for all weather conditions. On the entire peninsula there are hardly any accommodations, but 16 campsites, each located a day's distance from each other. Since wild camping is prohibited to protect nature, you should plan your multi-day hiking route along these campsites. What is a special incentive can also become a challenge when you may not encounter people for days in the remote areas. If you don't have much experience hiking multi-day routes, you should rather plan shorter day hikes or an excursion with a guide. At the same time you will learn a lot about the flora and fauna of the impressive landscape.
General info and a map of Hornstrandir:
Map of the area: https://ust.is/library/Skrar/Einstaklingar/Nattura/Fridlyst-Svaedi/Vestfirdir/Hornstrandir/Hornst_fix_300_A4_2019.pdf
Ministry of Environment Iceland: https://www.ust.is/english/nature/protected-areas/westfjords/hornstrandir/useful-information/
https://www.westfjords.is/en/destinations/nature-reserves/hornstrandir-nature-reserve
Tour providers and their ferry schedules
boreaadventures.com + https://www.boreaadventures.com/boat_tours/ (one crossing from 80€ depending on destination)
westtours.is + Sjófer∂ir ferries https://www.westtours.is/en/hornstrandir/sjoferdir-boat-scheduale (one crossing depending on destination from 80€)
Accommodation
Glamping ("glamorous camping") in Hornvik https://www.boreaadventures.com/hornvik_camp/
Old Doctors House (bed and breakfast and café) https://hesteyri.net
Reykjarfjör∂ur (sleeping bag accommodation, tent site, hot pot) http://www.reykjarfjordur.is
Hornbjargsviti (overnight stays in lighthouse) https://www.fi.is/en/mountain-huts/all-mountain-huts/hornbjargsviti
Kvíar Lodge (small guesthouse) https://www.boreaadventures.com/kviar_lodge/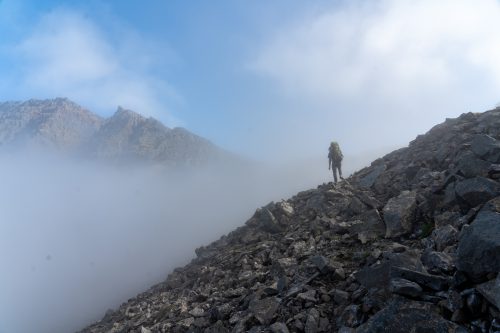 Thank you, dear Nele, for your report and the insights!
Images & Text: Nele Mahnke
Nele's Instagram